3 HIDDEN SECRETS TO GROW YOUR BUSINESS FAST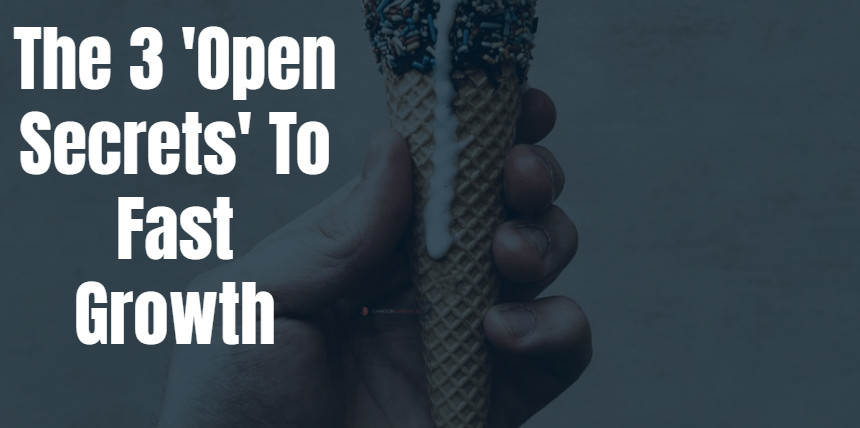 Are you struggling to grow your business and you don't seem to know why?
Worst still, you don't even know what to do about it.
As a business growth & marketing strategist, my clients complain about this sort of thing almost all the time. In 2015, I did research and found out that 8.5 million small businesses around the world close shop. That is a very disturbing figure.
We all know that it's very hard to take your business off the ground, especially when you are the one bootstrapping it and sometimes, it can even be worse if you have an investor pressuring you.
However, growing a business will not be a herculean task if you follow the steps that I will be showing you today. Note: it may not be easy.
I speak as someone who has gone through this phase before and I work with business owners who are at this phase.
When I started, it took me 8years to make my first ever $25,000 in business but it took one of my clients only 3weeks to hit $37,000.
Why did it take me 8years to get to $25,000 and my client only 3weeks to hit $37,000?
You will learn the secrets that all my students and clients use to get massive results in this post and if you have any question(s), drop it below.
1:  FOCUS
I can't say this enough but I will keep talking about it as it is one key that I have been using consistently and it works every single time.
You need to be focused in the direction you are going and on the vehicle taking you there.
I was a victim of this particular 'disease'. Yes, I know that is a very strong term but it's the best way I can describe it because I suffered from it.
There are too many 'shiny objects' in your business that you don't need to pay attention to. In my case, while reading a blog post, another would pop-up and I would abandon the one I was reading for the new one.
As I was trying to get customers, the so-called 'gurus' told me to do a gazillion things. They were like, 'Johnson, if you don't do this, you can't grow'.
As someone who's determined to grow, I took their advice.
They said, 'write a book', so I started writing a book but before I could finish writing that book, another expert would scream, NO! 'That is not what you should be doing, get media publicity!'
Oh, serious? I asked!
Yes, do it now.
As I was trying to figure out the best way to get media publicity, another chap came up, 'STOP! Are you crazy?  Spend 3hours on Facebook daily, that is how to get clients'
See, I can go on and on like that. One day, I got confused because I was not seeing the possibility of hitting my millions and I was losing hope every single day.
I was at the point of giving up my dream. Ok, let me tell you the truth, I actually gave up because I was about looking for a paid job.
That again is another loss of focus.
My case continued like that until one day, I started suspecting one of my relatives. I felt he was the one behind my woes.
I did not tell him but whenever he gave me anything to eat, I'd say in my heart, 'This wizard is actually the one after me, so he wants to poison me'.
I will collect whatever he gave me and go throw it away later.
Guess what, I was my own ENEMY. I was the one limiting myself, nobody else was limiting me. I lacked FOCUS.
I had subscribed to close to 500 email lists of various experts and listened to conflicting advice, still I could not grow. worse more was the fact my business was centered on the US market, a very competitive market.
One day, a very respected personality in my industry asked me to stop following everybody. He said, 'stop listening to too many people.'
I think this is one of the best business advice I ever got. He said, 'Johnson stop it. Unsubscribe from their list'
Pick a maximum of 3 people you love, follow them.
Just sit down, look at how successful they are, their influence and their market, then model your business after them, period!
GBAM!
'Where have you been all my life, sir?'
Immediately, I sat down and picked 3 persons I love. I modeled my business around these amazing guys. I modeled one 25%, the other %25 and the one I really love was modeled 50%.
That was exactly what changed my life and business. If you want to grow your business, you don't have to listen to too many people.
One thing you must know is that everyone has an opinion, whether right or wrong, but listening to everyone makes you lose focus.
Let me tell you this my friend, that there are free contents to be downloaded online doesn't mean you need to download all of them.
Some people read too many blog posts, listen to podcasts, waste their precious time on things that will not add any sort of value to their business.
You need to stop, stop I say!
Don't follow too many gurus, don't listen to too many gurus, just pick the ones you love and stay with them.
FOCUS! FOCUS! FOCUS!
That is the key, my friend. That Google can provide everything you need for free doesn't mean you should get all.
2: ACTION
Once you get a clear direction of where you are going, focus on that path. You need to take little action every single day to get there.
On the internet, there are too many distractions and chief of them are NUDITY & PROCRASTINATION.
As humans, we love to do things that satisfy our sexual satisfaction and leave the core subject.
You need to be doing something every single day that will help you grow your business. There are some things that you must do every day; do them, don't procrastinate.
Now, you have a clear direction of where you are headed but if you procrastinate, if you are lazy or if you delay, you may not get there.
So, when you read a blog post, do what you are asked to do.
When you watch a video, do what you are asked to do.
Anything you do, ensure you take the ACTION that will get you closer to your dream so you can grow your business.
Success in business is not by luck or chance, it is a deliberate plan of action that leads to success in business.
You need to work on stuff that will bring about the output you desire and then do the work. Don't procrastinate, don't be lazy about it.
You have read enough blog post, you have bought enough courses, you have studied everything enough, and this is the time for action.
ACTION! ACTION!!  ACTION!!!
3:  BELIEVE
Now, you have a clear-cut direction, you are taking daily actions to help you get there but that is not all you need, you need to have FAITH, believe!
No matter how hard you try, if you lack this, you won't go far because you will meet obstacles. They will always be there.  You need faith to help you at this point.
You might be doing everything right but the result is not what you expect, should you just give up?  Faith is what is required at this point to grow.
You need to believe in yourself or your mentor. You can't really do much if you lack faith in yourself or the person coaching you.
Self-doubt is the #1 destiny killer, you mustn't doubt yourself. Just keep taking action, keep doing what you should be doing to grow your business.
BELIEVE IN YOURSELF! BELIEVE IN THE VEHICLE TAKING YOU THERE!
My pastor said I should tell you to have FAITH! FAITH!! FAITH!!!
Never doubt yourself, never be discouraged, never be depressed, never give up, don't do it!
You can make it, yes, you can!
If an Abakaliki boy like me, who should be hawking gala in Lagos or Port-Harcourt could make it, then you can. If I could help my clients build a successful business, you can make it. Faith is what you need.
Now, let me give you a BONUS, I know I told you three, right?
This one is more important than anything else. I didn't plan to add it but I won't be doing you any good if I don't, so, here's it…
4: GET MENTORSHIP
I will be very honest with you, you can't do it alone. You need help, get someone to help you. you can either pay for someone to mentor you or get someone to assist you. The point is, you need mentorship.
If you stay in Port Harcourt, for instance, and you want to go to Lagos for the first time, and you are not sure of what Lagos is like, isn't it wise to look for someone who's gone to Lagos before to acquaint you with what to expect in Lagos?
The person will probably have to tell you that in Lagos, you mind how you drive, otherwise, you'll pay through your nose trying to get off the hook of the likes of VIO and LASTMA.
That is mentorship!
Napoleon Hill said that when two minds are operating with the same purpose, a third 'mind' is formed and he described that as the 'mastermind'.
You need someone to give you the correct areas to focus on, you need someone to tell you what you should be doing, you need someone to make you believe in yourself.
It doesn't matter what kind of business you are into, even if you are selling garri, you need mentorship. Everyone needs a mentor to grow.
Now, let me put it this way, "Behind every successful business, you will find an amazing mentor, coach or consultant."
So, you have a choice today.
You can decide to figure out things on your own and do all the experiments, who knows, you may be lucky and breakthrough within 8years or less…
However, there's an easier way out…
If you want to fly, join those who are already flying.
If you want to crawl, join those who are already crawling.
If you want to make the news, make friends with those who are already making the news.
If you are a person who likes to learn fast and implement what you have learnt so that you can easily grow your business in the fastest time possible, then you are going to love what I'm about to say next…
This week, I have set out some time to personally help you grow your business, fast!!
I'll start by helping you design a REVENUE GROWTH BLUEPRINT and it's 100%.
I will develop actionable plans for you to attract more customers to your business on autopilot
I will help you identify and uncover untapped revenue sources hidden within your business.
I'll help you design a blueprint that will help you attract potential customers & also turn them into life-long customers.
I'll uncover the MAJOR obstacle holding you back and proffer immediate solution to help you overcome it.
If you are about to transition from a paid job or thinking about starting a new business, you are also qualified, I can help you too.
It's actually 100% free, all you have to do right now is, GO HERE to get the details.
You can't imagine how fast your business will grow when you have someone like me holding you and showing you what direction you should be going on a daily basis.
You will avoid all the stupid mistakes people make and you'd be shocked at how fast you can grow. One of my students was able to grow her business by 306% in less than 90days and another hit $37,000 in three weeks.
There are many stories like that, JUST GO HERE
Let me know if you have any question(s) or comment(s), I'd love to help out.  There's a box below, just drop your comment there.
Founder, Dorothy David Consulting
When it comes to marketing, Johnson Emmanuel knows his onion. His passion for marketing and business growth is infectious. It's really a privilege working with him
WHO IS JOHNSON EMMANUEL ?
He is the founder of, Havanzer, one of the fastest growing marketing agencies. Africa.com calls him the top 5 marketing influencials in Africa. He is considered the #1 authority on engineering profitable customer acquisition campaigns in Africa.Johnson is famous for creating multi-million dollars marketing strategies, campaigns and systems.